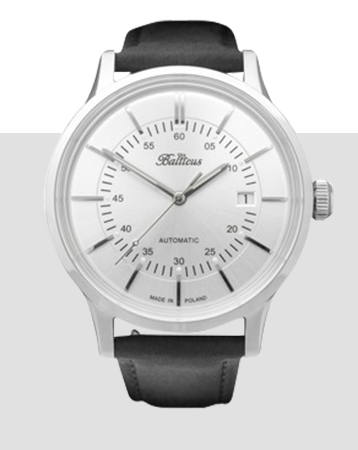 Balticus Volans collection of elegant men's watches
Balticus Volans collection of vintage-style men's watches. It's the best of everything. Unique character and reliable Japanese mechanism, what more do you want? Premium men's watches from the Volans series are for those looking for something a little more elegant, but not without its own unique character.
The attention here is especially drawn to the gently convex dial, unobtrusively alluding with this treatment to watches from the 1950s. The minute scale was placed in the center of the digitizer, which gives a very interesting look, while also making it easier to read the time. The safety of the dial here is ensured by a gently convex sapphire glass with anti-reflection.
A striking glass lid conceals the acclaimed Japanese automatic movement – Miyota 9015 – bearing 24 stones. Tasteful detailing in the form of signature lace is one of those little things that pleases. All timepieces from the Volans family are assembled in Gdynia at the Ogrodowicz and Son watchmaking facility. A vintage style watch made in Poland? Why not!
What distinguishes the premium men's watches from the Volans series is the masculine character combined with a noticeable elegance of the highest class. Exclusive men's watches allow, to highlight the best of men's styling. Whether it is formal for a business meeting or a team-building trip out of town. Precision finishing, extreme durability and a strong mechanism are undeniably the best that a watch can have. Stand out with taste with the premium men's watches from the Volans series.