Krzysztof Miruć, one of Poland's most recognizable architects and interior designers. He gained immense popularity as a host of interior design programs at the Warner Bros. media group. Discovery. Christopher is co-owner of the architectural firm L'AB Architects. It is known for its refined taste and love of superior quality.
Christopher's schedule is extremely busy. Therefore, it was not easy to catch him, even for a short conversation. However, we were persistent enough to talk and learn more about the man whose architectural adventures are known to most Poles, and certainly to those who dream of a comfortable bathroom or a functional dressing room.
Krzysztof Miruć comes from Giżycko, where he spent his entire childhood. When asked about his memories of his teenage years, he talks without hesitation about carefree moments spent in the land of a thousand lakes. However, he adds with exuberance that that wild, almost deserted Masuria is no longer there today. Nevertheless, he knows the places that still retain that atmosphere today, and if he can, he returns to them, if only in his memories.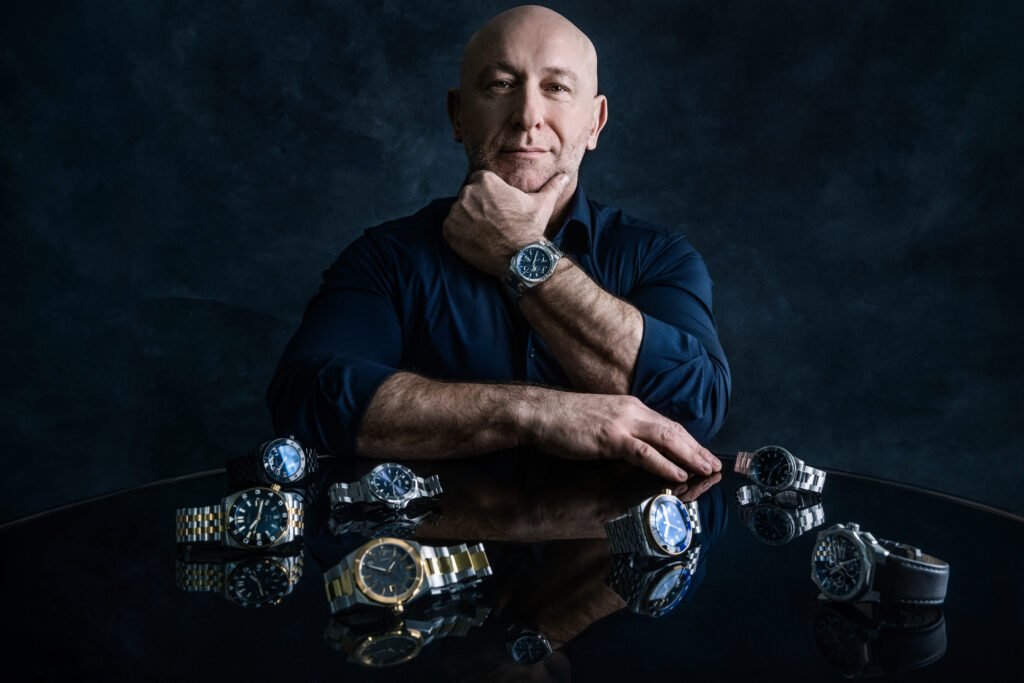 Ever since he can remember, he has wanted to become an architect. The biggest influence on Christopher's future, was his uncle Miroslaw Miruć, whose work and manner impressed him immensely. It was he who inspired his younger cousin and instilled in him the gene of creation, which Krzysztof developed in high school in Suprasl and later while studying at the Warsaw University of Technology. However, Christopher adds with a smile that if he could not practice architecture, in his opinion the most beautiful profession in the world, he would become a lawyer. Who knows if it would have gained such popularity then? Although, knowing the feisty nature of our Ambassador, we are sure he would have had an equally big career and would have been just as popular.
"If you love what you do, time becomes relative. I lose myself in work, which ceases to be……….work and becomes pure pleasure," he answers when we ask him about his greatest passion, adding, "that's why I can say of myself that I'm a workaholic, and this is the only addiction I indulge in with tremendous fun ".
Speaking of time, Christopher openly says it's something he's constantly lacking. To make matters worse, he is a sometimes absent-minded person, and if it weren't for his co-workers, he definitely wouldn't be able to get anything done in time. Even with a wristwatch.
Christopher's first watch memory, is related to communion. It was during this ceremony that he received his first watch, which he remembers perfectly. It was a Soviet-made machine, with a white and silver dial, a manual-winding mechanism and a classic design. From the description, one might think that Christopher has become the owner of a traditional suit. As he adds, it was not the watch of his dreams, because those, for those times, were quite obvious. The watch should be battery-operated with melodies or a calculator.
The communion souvenir got lost somewhere in the depths of history, and in the so-called meantime our Ambassador began to appreciate manual mechanisms hidden in perfectly designed envelopes. Christopher began to fulfill and develop his watch dreams together with Balticus.
"I am a fan of Polish companies," he says openly, "and I want to support Polish brands. Therefore, as soon as the opportunity to work with Balticus arose, I did not think too long and accepted the proposal. It was very important that some of the watches are designed by an outstanding professional, Matthew Przystal. It was this uncompromising approach to the product and the desire to create unique items that convinced me of the company's watches. For me as an architect, form and substance are of great importance, and I find both in Balticus watches."
For our Ambassador, a watch is an important part of a man's outfit. Christopher owns several Balticus watches, and they are the first thing he wears when he wakes up. He always tries to match his watch to the occasion, the time of day, or the place he is about to go. Fortunately, there is plenty to choose from. Christopher is the owner of, among others. Monkfish, Stardust, or Deep Water` in the highly desirable and elegant Ultra Black Limited Edition configuration.