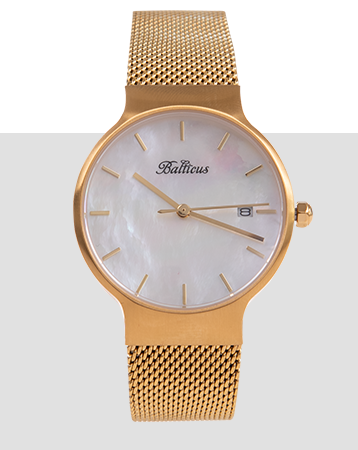 Balticus Sky collection of elegant women's watches
Women's luxury watches in the Sky collection are a dream come true of luxury jewelry, for any woman. Elegance and delicate style in as many as 12 color versions are ideal compositions, for any occasion. Exclusive women's watches from this line go beyond the usual, allowing them to complement even the most unconventional styling. Premium women's watches are the answer to women's styling needs.
Sometimes unblemished, warm, radiant, sometimes magical, combining opposites, but also dark and mysterious. Just as the landscape over our heads is different, so are the Balticus Sky watches. All have been made with the utmost attention to detail, with unobtrusive materials, using proven quartz mechanisms and with the passion that makes them so special.
The sky is associated with a beautiful gallery of images that change every day. With each moment he can admire with delight. The sky is an infinite amount of inspiration that can be interpreted in an infinite number of ways…. It is the magic of the sky that inspired the creation of a beautiful, delicate collection of exclusive women's watches, which, like a woman's nature, changes as often and dynamically. Thanks to this, premium women's watches become a downright heavenly complement, to any woman's styling. This heavenliness can be seen in both sporty-elegant fit, but also more formal.

In order to respond as much as possible to the demands of the fair sex, 12 color versions have been created, so that every woman will find the variant that best suits her expectations or allow to complete a striking collection that fits, for any occasion. Both the formal and less formal, allowing you to enjoy the beauty of every detail of the watch like the charm of the changing sky. If you are a woman who is as eager to soar in the clouds as she is to aim high in life, then the heavenly Sky collection is just for you. Remember that Sky is the limit! And your creativity and variants have no limits. Let yourself be carried away between the clouds with premium women's watches from this heavenly collection.
Every woman should have two faces. On the one hand subtle as a cloud in the sky, on the other have a tiger's claw. Just like the exclusive women's watches from the Sky series, which will take you above the heights of inspiration and styling, allowing you to have a truly otherworldly experience when choosing the right outfit for a formal meeting, an outdoor event or an outing with friends on yachts. With watches from the Sky collection, you will allow for real sky-high fun by combining premium women's watches from this series with other accessories. Indulge in a dose of madness with 12 color variations of our watches.