Husband, dad, swimmer, world champion, world record holder, Giunness record holder. That would be the shortest way to introduce the ambassador of Balticus luxury watches, Michal Perl.
Michael has competition in his blood. He has been involved with swimming sports since childhood. His dad is the founder and coach of UKS "Delfin" Legionowo. That's why he didn't have it easy at the start of his adventure in sports, because as the son of a coach, he had to show much more than his colleagues. Michael began swimming training at the age of 6.
The sport taught him perseverance, respect for his colleagues and instilled an ethos of hard work, which resulted in winning a medal at the Polish Junior Championships and being called up to the Polish national team in swimming.
"However, at the age of 19, I had to make the extremely difficult decision to end my career. Life has verified my plans and dreams. Sports, whichwhich I loved above all else, I had to trade for professional work. I realized that the discipline thatwhich I practice, will not allow me to support myself and my loved ones," says Michael.
Life without sports adrenaline, however, proved too monotonous. Michael returned to swimming at the age of 21, as a competitor in the masters categories. He still dreamed of great success in the discipline he had loved and practiced for most of his life. Everything that happens in life, he says, happens for something. One day, while browsing the Internet, he came across the story of a friend of his who practiced a sport with the rather exotic-sounding name "ice swimming." Her performance and achievements inspired Michael. He wanted to find out more. Curiosity led him to his first competition.
November 2018. Bydgoszcz. Brda River. And a spectacular success, the first win. The next competition, in January 2019. in Katowice also ended with a gold medal. After that, things moved at lightning speed. Appointment to the Polish National Team for the World Championships in Murmansk, the same year, was just a formality. Michael dominated the championship, winning 5 gold and 1 silver medal.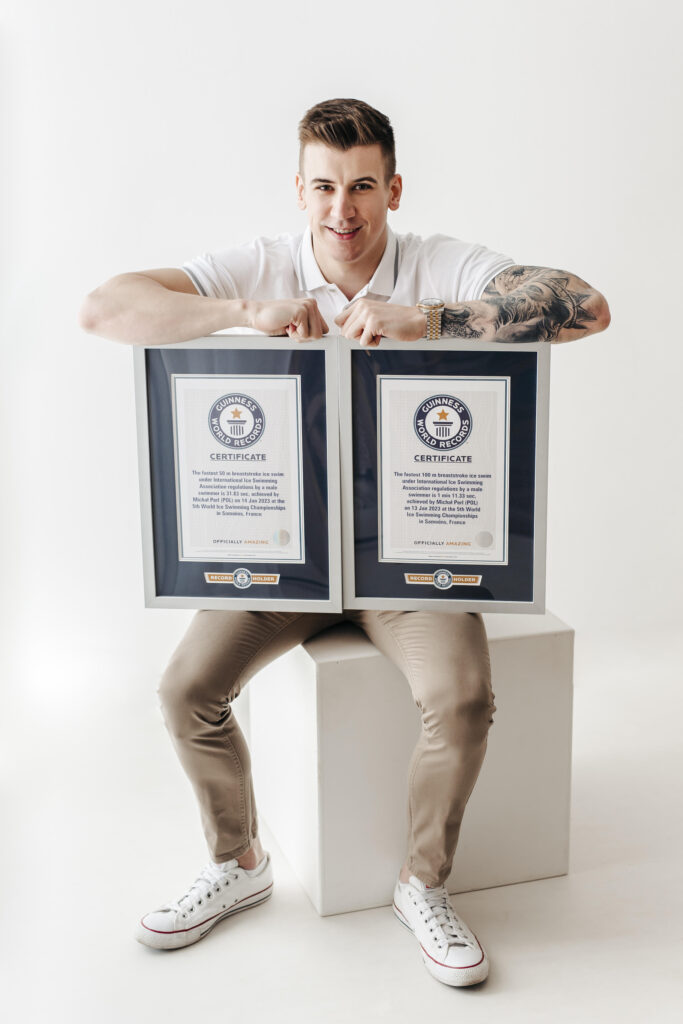 "I remember the championship in Murmansk very warmly". – Mikhail, saying this, smiles from ear to ear, adding – "The water was as low as 0.01 degrees Celsius and these were the most extreme conditions I have swum in. Volunteers had to "stir" the water all the time to keep it from freezing completely. For the first time, I had the opportunity to swim in a freezing puddle". After a while, he adds. "When I step into icy water, I don't think of it in those terms. I'm focused on getting the job done, and that makes me not feel the cold, just the need to be the best."
This philosophy led Michal to the most successful career in ice swimming. In 2023. World Championships of two federations coincided. Michal, in both won world titles becoming the first and only man in the world to do so. He is currently a double World Champion and holder of two records entered in the Guinness Book of Distances:
– 50m classic style, with a time of 31.83
– 100m classic style with a time of 1.11.33
"The disciplineI practice," says Michal, " cannot becompared . to no other. The only thing she has in common with swimming is water. Everything else is completely different. The temperature of the water, its density, the icy air, ktThat fills the lungs during each inhalation. These sensations are indescribable. They give a tremendous sense of satisfaction and strength."
Ice swimming, is still a niche discipline, but incredibly rapidly gaining in popularity. This gives it a chance to become a showcase competition at the 2026 Olympics. Nearly 1,000 people in Poland are already swimming in the icy water. Michal's biggest sports dream is to perform at the Winter Olympics and bring back a medal for Poland from the Games.
"You eatli it will not work out and I will not be given the opportunity to perform at the Games, my competitors will certainly do so. I lead a swimming group and infect young people with a passion for the sport and a love of winter swimming. I am sure that if not me, then whohen oneof my charges wins an Olympic medal for Poland. A gold medal!" – says Michal with incredible conviction.
Balticus has been supporting Michal Perl since October 2022.
Bartosz Knop – founder and owner of Balticus:
"Already during the first conversation with Michael we caught an excellent contact. His character, determination and the passion with which he told us about the realization of his dreams made us decide with great conviction to work together. It is not without significance thatThat Michael practices a discipline thatóra is so close to my heart because it is related to water. We want to develop this cooperation and will support Michael and accompany him in his future challenges."
Michal Perl – Balticus brand ambassador
"I have always loved watches, and I wanted to become an ambassador of a Polish company that produces timepieces. Writing a message to Bartek Knop, I firmly believed that my love for swimming would inspire him and he would decide to work with me. I was not wrong. Another dream of mine has come true. I currently own two Balticus watches, but the former, the most important, is the "bubble". I have a special relationship with him because I strongly identify him with water, an element that has allowed me to realize my dreams and fulfill myself as a person and an athlete."